The finale of UAL's three-minute essay competition filled the stage with 9 finalists. An evening featuring science communication, giving a large part of society the opportunity to learn about the work of different research groups at the University of Almeria.
The jury consisted of Miguel Carrasco, Head of Corporate Communication, and International Programs at the Discover Foundation (Andalusian Foundation for Innovation and Knowledge Communication); Azucena Martín, Biotechnologist and Science Communicator, Hipertextual Media; Director of the Secretariat of Science Communication at the University of Almeria José Antonio Garrido's decision wasn't easy.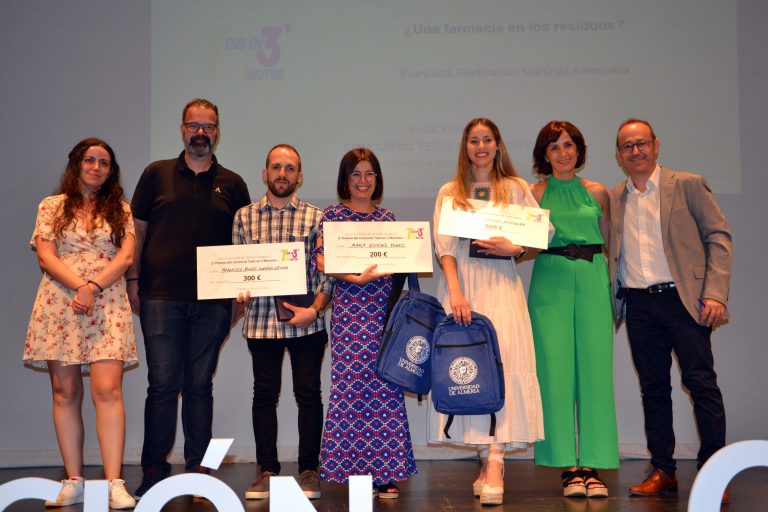 The winner of the first competition, launched by the Secretariat for Science Communication and the UAL International Doctoral Institute in early April, was Paqui Martínez, who was awarded €500 for her informative presentation of her doctoral thesis in the field of Zoology, with a focus on empowering agriculture new value for secondary products in the food industry, which can eventually be used as functional ingredients in fish feed. According to her, "it's a way to address new challenges and current problems".
The second prize (€300) was awarded to Francisco Javier Gonzalez Espinal for his work in the field of basic psychology. His dissertation examines the psychological effects of interacting with the natural environment compared to interacting with the urban environment around us.
Finally, the third prize (€200) was awarded to María Estévez, who is completing her thesis within the PhD programme in Human and Social Sciences at the University of Almeria. Her dissertation deals with the impact of reflective practice on initial teacher education.
In the final judging criteria, the jury placed great emphasis on the ability to understand and synthesize information. Candidates must therefore clearly present the methods, objectives, and most relevant results of their research in a coherent and rigorous order of the data presented. It also considers the ability to communicate, adapt language to the lay public, and any elements associated with non-verbal communication, such as gestures, eye contact, or vocal cords. The jury also rated the doctoral student's ability to grab the audience's attention and make the message of his presentation easy to understand. Finally, they also commented on the originality and innovation of the slides.