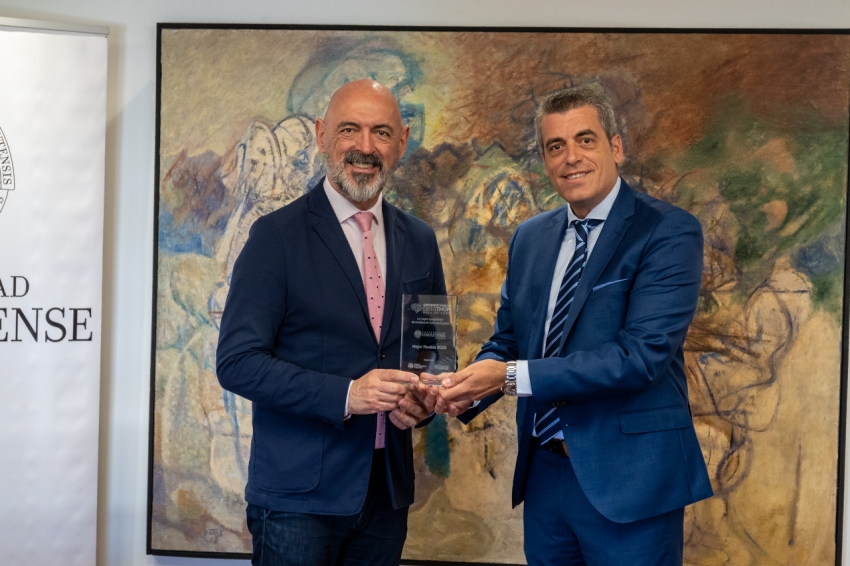 Photo: Joaquín Goyache, rector of the Complutense University of Madrid, with José Antonio Montero, regional director of Cajamar in Madrid. 
The Complutense University of Madrid (UCM) took home the 'Best rookie' prize among the 33 best universities and training centres in Spain with specialised courses in artificial intelligence, data science, big data and machine learning. The prize was awarded during the 'Hall of Flame 2023' of Cajamar UniversityHack Datathon, the most significant data analytics competition in the country.
In this 2022 edition of the competition, two groups of students from UCM's Master Propio programs won second and third place in different categories. They're respectively from the Master of Big Data and Business Analytics in the Faculty of Statistical Studies, and the Master of Big Data and Data Science in the Faculty of Commerce and Tourism.
Congratulations to the winning students and to Complutense University!
*The Cajamar UniversityHack Datathon is a university competition that aims to promote the development and generation of ideas in the field of data science and big data, by processing information and generating proposals of value for society, institutions or companies.