Thirty courses , three of them online, have welcomed the 531 students enrolled in the XXI edition of the Complutense Summer School (ECV) . At the inauguration, held on July 5 at the Faculty of Medicine , its director , Miguel Ángel Casermeiro , pointed out that these courses cover the four areas of knowledge : social and legal sciences , humanities , experimental sciences and health sciences , with topics as varied as neuroscience, big data , cell cultures or armed conflicts. Both the director of the ECV and theRector Joaquín Goyache wanted to thank those enrolled who have chosen the Complutense to "share their dreams and culture with us" in this hot Madrid summer. The inauguration concluded with a conference by Julio Zarco , deputy managing director of the San Carlos Hospital and president of the Humans Foundation .
Miguel Ángel Casermeiro thanked Banco Santander for the scholarships that have made it possible for many of the students to come to Madrid to train for three weeks in these courses that are " a good representation of what is done every day at this public university , open to all of society, and with values ​​that include plurality, ideological freedom and freedom of thought, equality and integration. And all this is reflected in our training programs".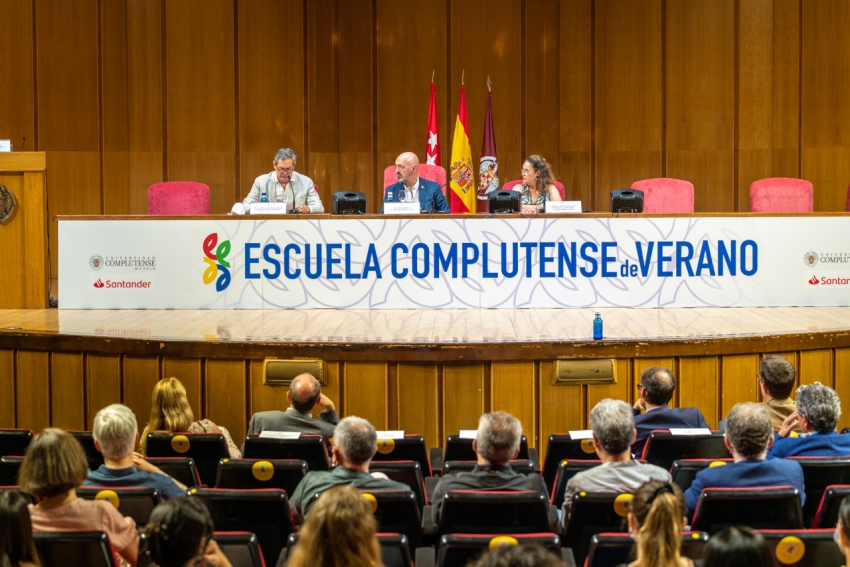 The rector Joaquín Goyache adds that there are several pillars in the university and one of them is social commitment, trying to obtain committed and responsible citizens , "and that is what is done with this School, because it is not just a matter of learning, but of sharing, cooperating and interacting, in a process in which both students and teachers learn".
Both Goyache and Casermeiro have briefly recalled the history of the Complutense, and have proclaimed that those enrolled in this ECV are now part of this great Complutense community , so they have at their disposal "the Departments, the libraries, the residences and the facilities sports". The rector trusts that after these three weeks some of the students will return to the UCM to continue their studies, but one way or another this will be "their home forever".
Apart from enjoying the university, Goyache recommended that students have a good time in Madrid , which "is one of the most open and friendly cities on the European scene ". Here you can do many things beyond studying: go to the cinema, the theater, musical events, museums… And, above all, promote "the coexistence that can exist among all, to learn from other cultures , in an exchange of transmission of values ​​and rights".
Sonia Olmeda , deputy director of Research at the General Foundation of the UCM , adds that " the Complutense is a powerful generator of knowledge and an engine of change, but we are so used to it that we do not give it importance ". She recognizes that from her current position she has the opportunity to meet relevant people from Complutense for their good work such as Julio Zarco , president of the Humans Foundation and responsible for the opening conference of this edition of the ECV.